Superior Quality.
Good design, tight tolerances, use of quality materials, and uncompromising attention to detail, result in a tool that you can enjoy for many years.
• Festool plunge cut saws are comfortable to use, and feel balanced in your hand.
• The use of soft grip materials, color coded switches and controls, and the use of tool-less adjustments combine to make the user experience much better.
• Detachable power cords can be convenient, as they allow you to disconnect from the power source at the saw instead of the receptacle.
• Antistatic hoses and attachments will reduce the amount of dust being distributed around the work area, and are considered safer by many users.
• Convenient time saving features like one handed blade changes making it easier to switch to the proper blade.
Accurate Cuts.
When used with a quality guide rail, Festool plunge saws are hard to beat for straight cuts.
• The guide strip on the edge of the rail acts as a zero clearance surface, and can be used to place the saw blade exactly on the cut line.
• Regardless of the bevel angle of the saw, the plunge saw is able to maintain an accurate cut line.
• The plunge saw will use a pivoting mechanism to ensure that the cut line stays exactly on the edge of the guide rail regardless of the saw's bevel angle setting.
• The Festool guide rails are strong, light, and easy to adjust, and come in a wide assortment of lengths with the ability to connect two or more to create custom lengths.
• Thin anti-slip bottom strips, and an easy way to clamp the guide rail down for added safety improve the cutting results significantly.
• Base plate adjustments are easy to adjust so that there is zero-play in the system, and tool-less adjustment knobs will make set-up easier.
Splinter-Free Cuts.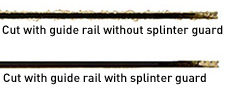 When working with expensive materials like cabinet grade veneered plywood or MDF, it is important to have cuts that leave splinter-free edges without burn marks to eliminate re-work or to minimize the amount of time spent cleaning up the cut line.
• Festool Plunge Saw uses easy tool-free saw to guide rail adjustments that ensure zero-play between the two.
• The plunge saw has splinter guards on both sides of the blade (one on the rail, and one on the saw.)
• MMC electronics and a variable speed setting will ensure that a consistent and correct blade speed is used for the material being cut.
• A blade to base adjustment gives you the ability to adjust the blades position relative to the base, and riving knife.